25 x 25mm (1in) Brass-Plated Square Shouldered Dresser Hooks – Simple to Install Tapered Screw Head for Easy Installation Into Wood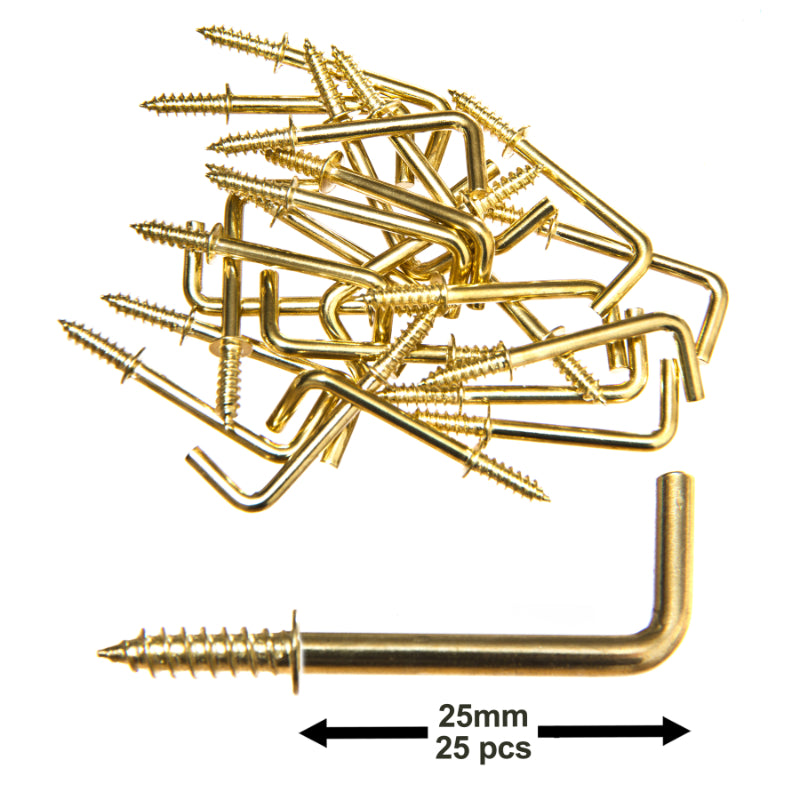 25 PACK OF 25mm (1?) BRASS-PLATED SQUARE-SHOULDERED HOOKS ? These quality-finished brass-plated square shouldered 1-inch screw-in hooks are a popular choice for anyone looking to create an area where you can hang small or lightweight items which you may need fast and easy access to on a daily basis.
ELECTRO BRASS-PLATED FOR PROFESSIONAL APPEARANCE ? As part of the manufacturing process, each of these premium square hooks is electro brass-plated to give a beautiful authentic brass appearance, making them ideal for use in more traditional-looking homes and spaces.
MULTIPLE USES AROUND THE HOME ? Most commonly used to hang everyday items such as dog leads, collars, house keys, mugs, cups, hats, lightweight jackets, brushes, kitchen pans, crockery, and many other similar types of household items, these quality square hooks make a great addition to any area in need of a fast storage solution.
SIMPLE TO INSTALL ON WOODEN SURFACES ? Thanks to its tapered self-tapping screw tip design, these brass-plated square shoulder hooks are fast and easy to screw into all types of wooden material. No tools required, simply push the tip of the screw into the wood and then apply pressure by hand whilst turning the hook clockwise to begin screwing the hook into the wood.
BEST QUALITY AND GREAT VALUE ? As a leading provider of premium-grade household fixings, you can be sure of both the very best standards in product quality along with some of the most competitive prices currently available. Add this popular pack of 25x 1? Square Hooks today at this great value everyday low price.
25 x 25mm (1in) Brass-Plated Square Shouldered Dresser Hooks – Simple to Install Tapered Screw Head for Easy Installation Into Wood
£0.00
Available for home delivery (free UK delivery over £20)
FREE returns
Category: