100x 13.5mm (17/32") Zinc-Plated Eye Hook Screws – Round Circle-Style Screw-in Metal Eye Hole Hooks Bolts for Hanging Small Items Pictures Mirrors on Walls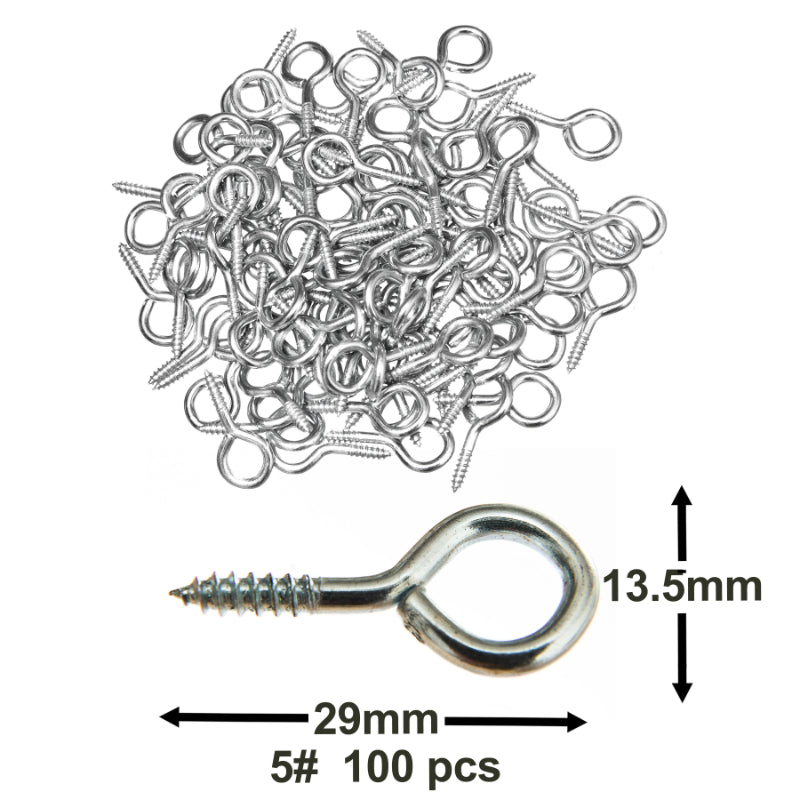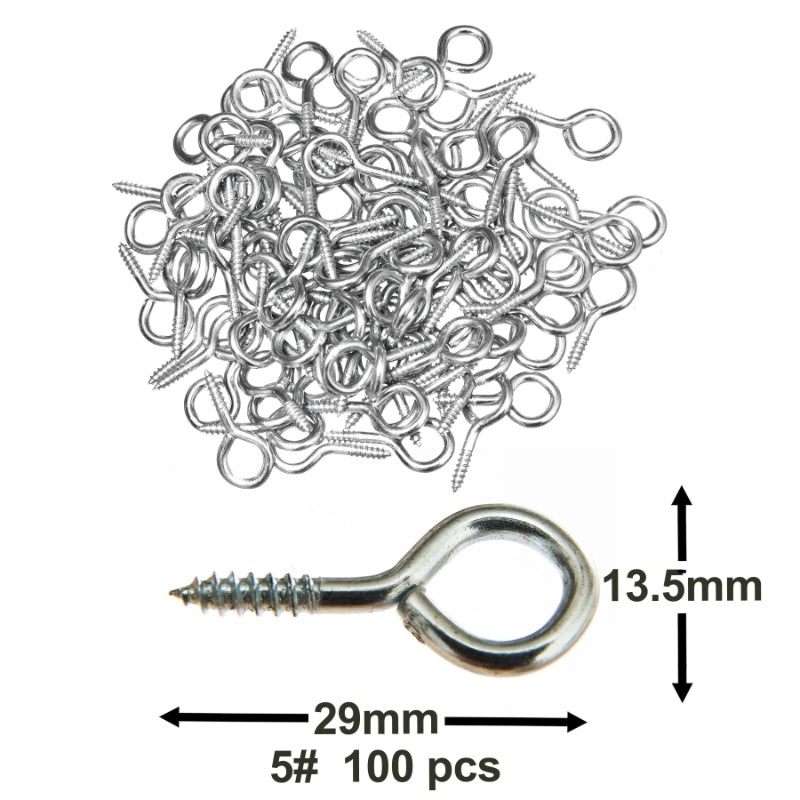 STRONG AND DURABLE PACK OF 100x 13.5mm (17/32?) ZINC-PLATED EYE HOOK SCREWS ? This excellent value, premium quality pack of 100x 13.5mm (17/32?) Zinc-Plated Eye Hook Screws is a must-have accessory in all keen DIY enthusiasts tool boxes or utility cupboards, offering excellent strength and versatility for hanging lightweight items on a range of walls and surfaces.
EASY TO INSTALL IN LESS THAN A MINUTE ? Thanks to its easy-to-use screw thread, these eye hook screws can easily be screwed into most household surfaces by hand, being especially useful on plasterboard and drywall. Where you wish to install on harder walls a pilot/guide hole may need to be drilled first and small rawl plug inserted.
FULLY ZINC-COATED FOR MAXIMUM PERFORMANCE AND USABILITY ? Each screw-in eye hook has been zinc-coated during the manufacturing process ensuring the highest resistance to corrosion and rust, meaning you can also use these popular screw-in eye hooks outside around the garden or in your garage.
GREAT FOR A WIDE VARIETY OF USES ? These useful eyelet-type hook screws are commonly used for a number of applications, such as: hanging pictures and wall hangings, putting up mirrors, hanging curtain wires in rooms around the home, tidying up / channelling loose wires, and a range of other uses.
BEST QUALITY AND UNBEATABLE VALUE - A cost-effective and popular choice for hanging smaller or lightweight items on walls around the house, office or garage, these excellent quality eyelet-style screw-in hooks are exceptionally handy to have available and at hand for all those little jobs. Get this great value 100-pack today at an unbeatable low price.
100x 13.5mm (17/32") Zinc-Plated Eye Hook Screws – Round Circle-Style Screw-in Metal Eye Hole Hooks Bolts for Hanging Small Items Pictures Mirrors on Walls
£0.00
Available for home delivery (free UK delivery over £20)
FREE returns
Category: