50-Pack of Zinc-Plated Screw Hooks 36.5mm (1-7/16in) Size – Strong Metal Screw-in Hooks for Garden Home Office Kitchen Bedroom Utility Room and Garage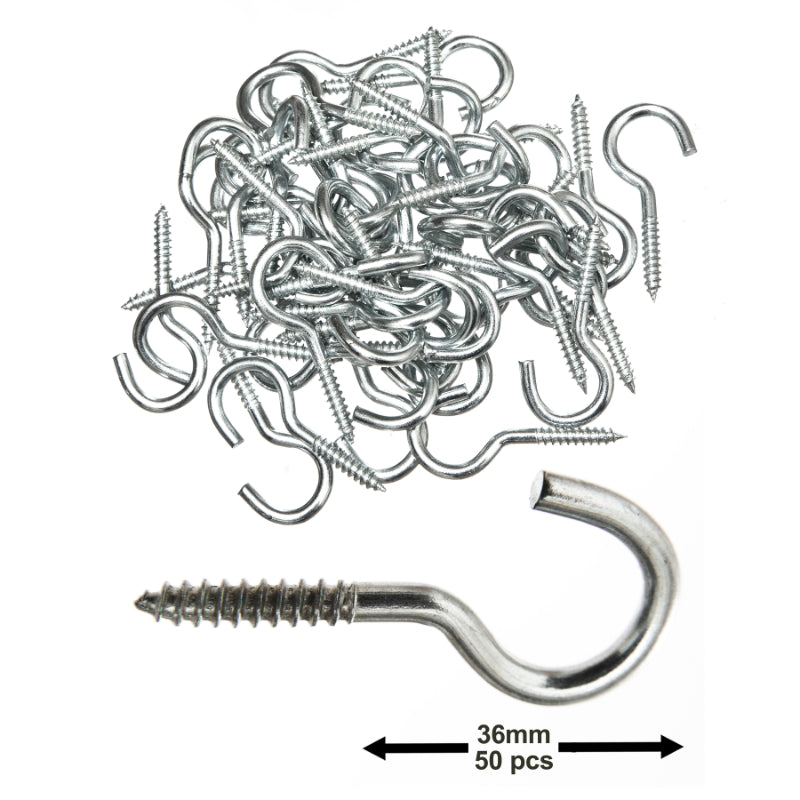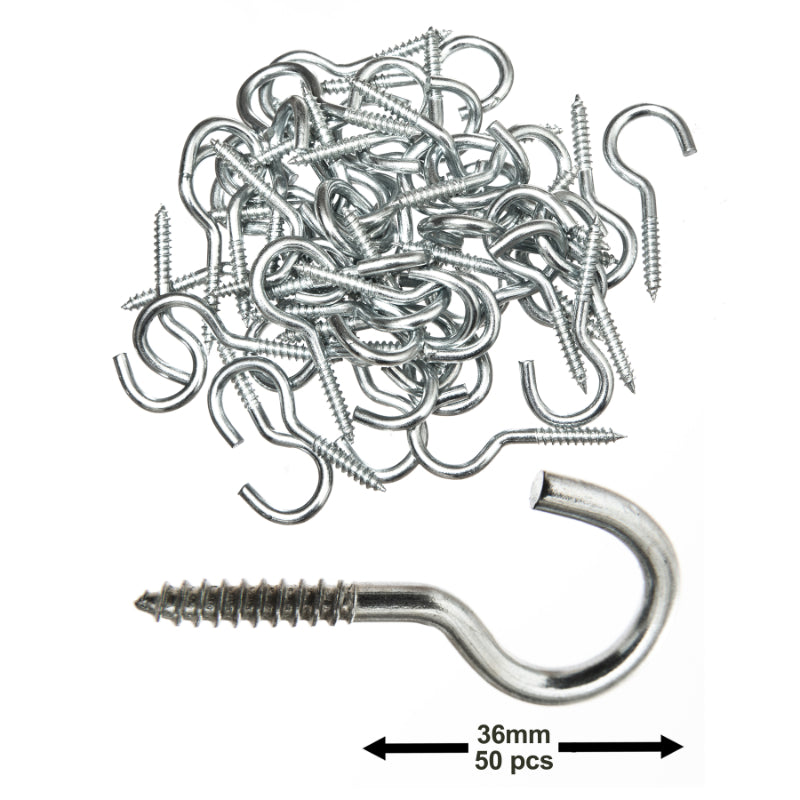 PACK OF 50x HIGH-STRENGTH ZINC-PLATED SCREW HOOKS ? This pack of commercial quality 36.5mm (1-7/16in) zinc-plated metal screw-in hooks offer a wide range of uses where there is a requirement to hang items up or to free up space around the home, office or garden. With 50pcs per pack, you?ll have a good quantity available for all your needs.
ZINC-COATED FOR ADDED DURABILTY AND PROTECTION ? Each screw-in hook has been zinc-coated during the manufacturing process to ensure excellent resistance to corrosion and rust, meaning you can also use these popular screw hooks outside around the garden, in your garage, or on the exterior of your house without any worries of oxidation occurring.
FEATURES TAPERED SCREW ENDS FOR FAST INSTALLATION ? Each screw end has a tapered tip, allowing these screw hooks to easily penetrate wood and other soft materials just by hand. Once the tip of the screw thread has entered the wood, begin rotating the hook by hand and continue turning until fully tightened into the material.
POPULAR MEDIUM-SIZED 36.5 MM METAL HOOKS ? One of the most commonly-used sizes of metal screw-in hooks, the 36.5mm length makes it the ideal choice for general use all around the home without being too small or too large for most people?s requirements.
SUITABLE FOR MULTIPLE USES ? These great-looking zinc-coated screw hooks are the ideal solution for hanging a multitude of household items, including curtain wire, keys, cups, mugs, all types of jewellery, irrigation piping in the garden, netting, and for lighter weight and small handheld tools around the garage. They are also great for hanging festive lighting and similar in the garden or on the exterior of buildings.
50-Pack of Zinc-Plated Screw Hooks 36.5mm (1-7/16in) Size – Strong Metal Screw-in Hooks for Garden Home Office Kitchen Bedroom Utility Room and Garage
£0.00
Available for home delivery (free UK delivery over £20)
FREE returns
Category: