25 x PVC-Coated 25mm (1in) Cup Hooks – Top Quality Wall Ceiling Plastic-Covered Metal Screw-in Hooks for Kitchen Office Bedrooms Utility Room Garage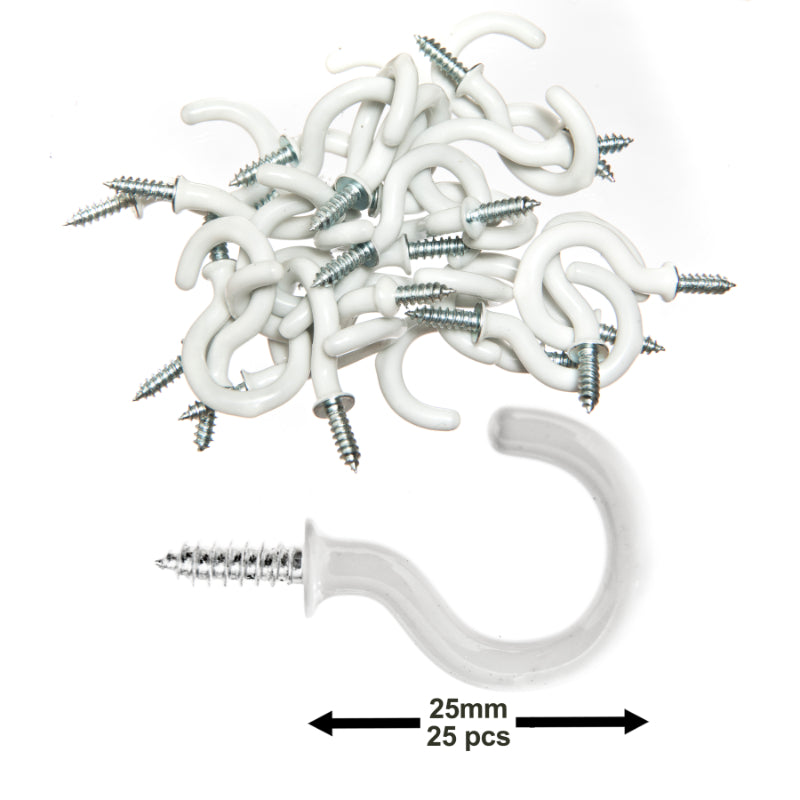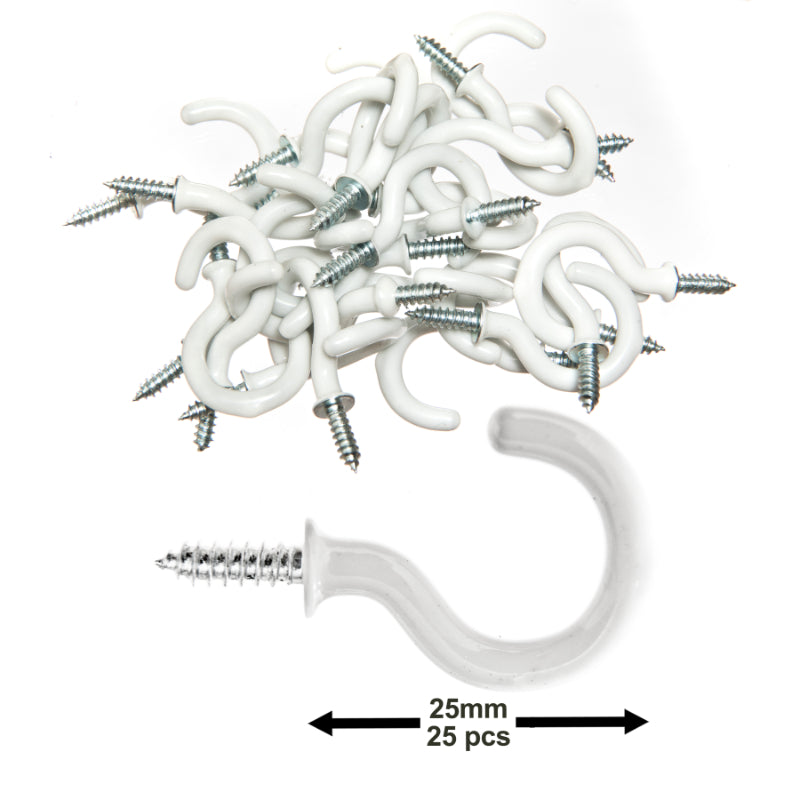 25x DURABLE 25mm (1?) METAL CUP HOOKS WITH PROTECTIVE PVC COVERING ? If you?re looking to add a new storage solution to your home, office, garden or garage, these PVC-coated screw in hooks are the perfect answer. Simple to screw into wood, you can effortlessly use these stylish hooks to hang lightweight items and clear up the clutter!
SELF-TAPPING TAPERED ENDS FOR QUICKER INSTALL ? Each of these PVC-coated hooks has a self-tapping tapered end which assists with installing the hooks into wooden materials. Simply push the sharp end of the screw thread into the wood using your hand and then you can manually twist the hook clockwise to begin winding the thread into the surface of the wood. Continue to wind the hook until it has fully penetrated the wood and the install is complete.
HIGH QUALITY BRIGHT WHITE PVC FINISH ? Perfect for giving a clean minimalist look, these simple yet stylish white PVC-coated metal hooks offer the strength and durability of a steel hook with the soft appearance of white rubber as the visual finish.
IDEAL TO PROTECT DELICATE HANGING ITEMS ? Thanks to the thick PVC-coating, these screw-in hooks offer protection against scratching and marking more delicate items such as fine china cups and mugs, jewellery, rings, necklaces and bracelets, all of which could otherwise be easily marked when hung on standard uncoated metal hooks.
CAN BE USED ALL AROUND THE HOME AND GARDEN ? Due to the protective rubber finish, these premium quality metal hooks can be used both indoors and outdoors without fear of rusting or corrosion. Use them around the garden, in the garage, on the exterior of outbuildings, fences, and any other location where you may wish to hang or suspend lightweight items from.
25 x PVC-Coated 25mm (1in) Cup Hooks – Top Quality Wall Ceiling Plastic-Covered Metal Screw-in Hooks for Kitchen Office Bedrooms Utility Room Garage
£0.00
Available for home delivery (free UK delivery over £20)
FREE returns
Category: