25-Pack of Brass-Plated Cup Hooks in 15.6mm (5/8"in) – Premium Wall Ceiling Metal Screw Hooks for Home Kitchen Office Bedroom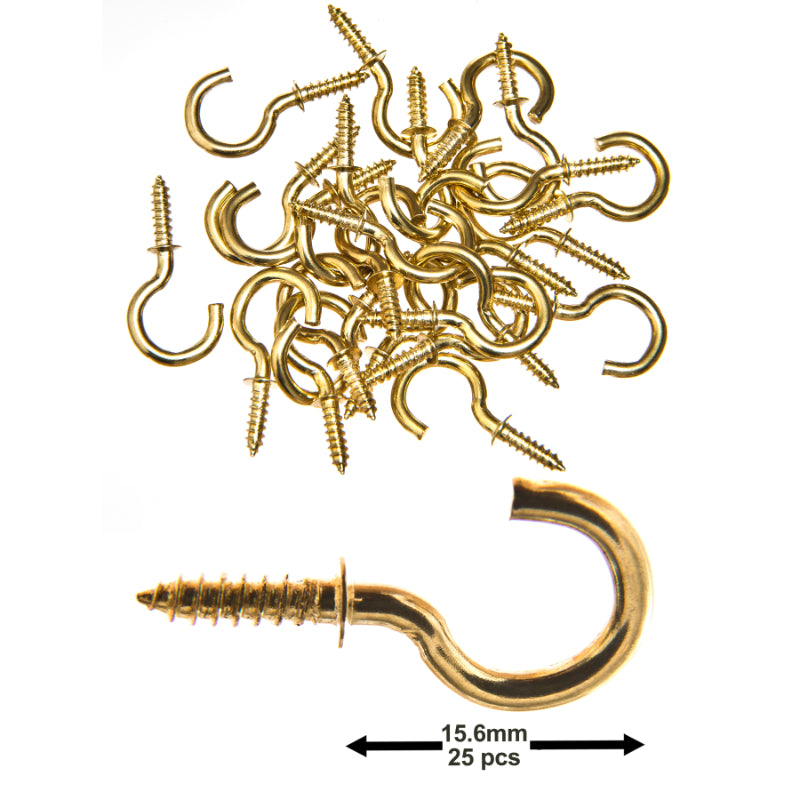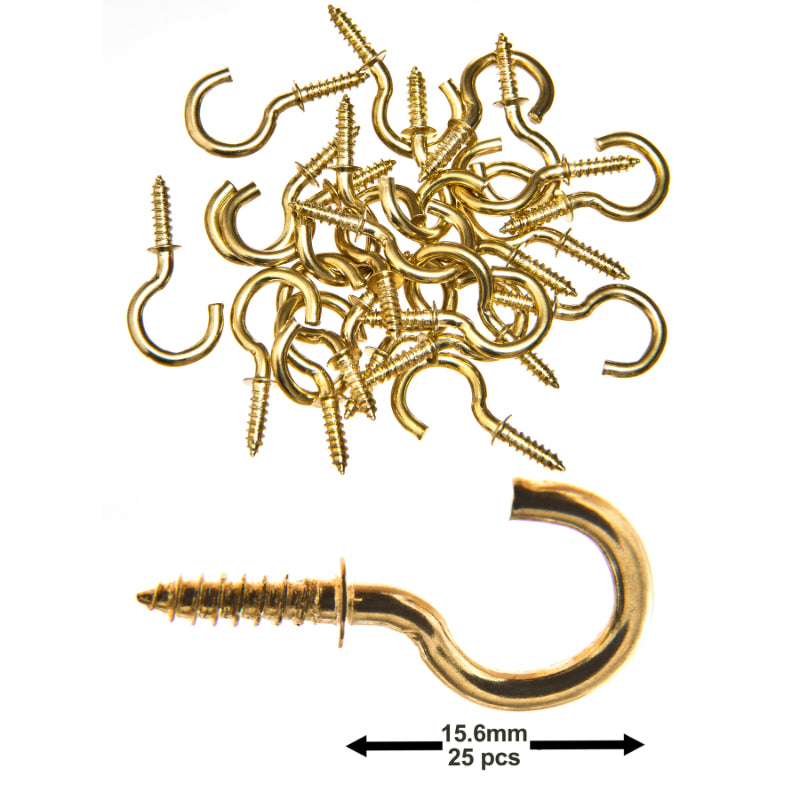 PACK OF 25 QUALITY BRASS-PLATED CUP HOOKS ? These great-looking brass-plated curved metal cup hooks are a quick and simple way to add a new storage area to your home where you can begin hanging lightweight items either to free up cluttered areas or to add a new designer visual touch.
TAPERED ENDS FOR EASY INSTALL ? Manufactured with sharp tapered screw ends, these brass-plated screw-in hooks can initially be pushed into softer materials such as wood before then turning the hook manually by hand, allowing the screw thread to begin naturally entering the surface it is being attached to. Continue turning until fully tight to complete the install.
PREMIUM FINISH FOR THE BEST LOOK ? Each cup hook has been professionally brass-plated during the manufacturing process to give a premium quality, professional-looking finish that is visually appealing whilst also being extremely durable and long-lasting.
ARRANGE YOUR MUGS AND FREE UP SPACE ? Use these popular brass-plated screw hooks in your home or office to create an eye-catching mug storage area under shelves, cabinets and similar spaces. Particularly great if you have an attractive set of designer mugs or cups you want to show off rather than keep hidden away in the cupboard.
A GREAT CHOICE FOR LOTS OF OTHER POPULAR USES ? Although highly popular for hanging cups and mugs, these top quality hooks are also great for hanging other items such as jewellery, necklaces, bracelets, rings, house keys, car keys, dreamcatchers, lanterns, Christmas decorations and many other lightweight household items.
25-Pack of Brass-Plated Cup Hooks in 15.6mm (5/8"in) – Premium Wall Ceiling Metal Screw Hooks for Home Kitchen Office Bedroom
£0.00
Available for home delivery (free UK delivery over £20)
FREE returns
Category: