Pack of 70 Hardened Ribbed Steel Masonry Nails 2.5x50mm (1"x2") for Brick, Blocks, Skirting Boards, Battens and All Other Masonry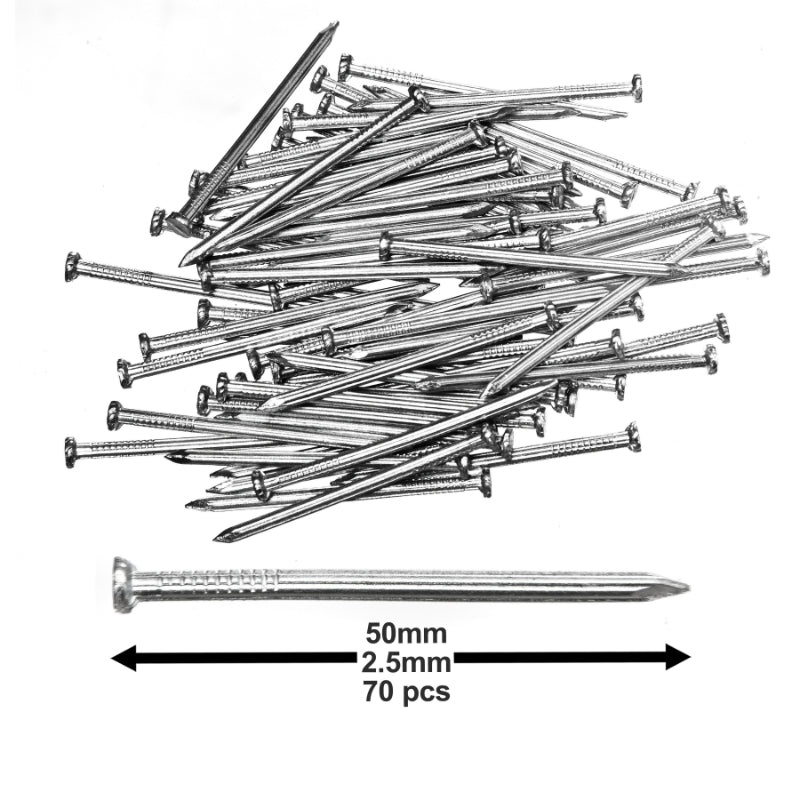 70-PACK OF 2.5x50MM (1x2") HARDENED STEEL MASONRY NAILS ? This great-value pack of steel masonry nails are a must-have for all types of general masonry work. The hardened steel construction ensuring they offer excellent strength and performance without bending and flexing when hammered into harder types of masonry.
TAPERED HEAD DESIGN ? Featuring a tapered head design which ensures the nails can be hammered fully into the target material offering a neat, flush, professional-looking finish and minimising any unsightly overhangs.
RIBBED FOR BETTER HOLD ? The shaft of these hardened steel masonry nails includes a ribbed section near the head of the nail which helps to provide more purchase and grip when nailed into harder surfaces, ensuring secure and reliable fixings are achieved every time.
IDEAL FOR ALL SORTS OF MASONRY WORK ? These popular hardened steel masonry nails are suited to a wide range of masonry applications, such as: fixing wood to brickwork, fixing attachments to blocks, installing skirting boards to plasterboard, affixing wooden battens, and most other types of masonry.
Pack of 70 Hardened Ribbed Steel Masonry Nails 2.5x50mm (1"x2") for Brick, Blocks, Skirting Boards, Battens and All Other Masonry
£0.00
Available for home delivery (free UK delivery over £20)
FREE returns