Large 406pcs Bulk Pack of Premium Furniture Felt Pads for Furniture Feet - Floor and Furniture Care Kit – Heavy Duty Self-Stick Adhesive-Backed 5mm Thick Felt in Various Shapes Sizes and Colours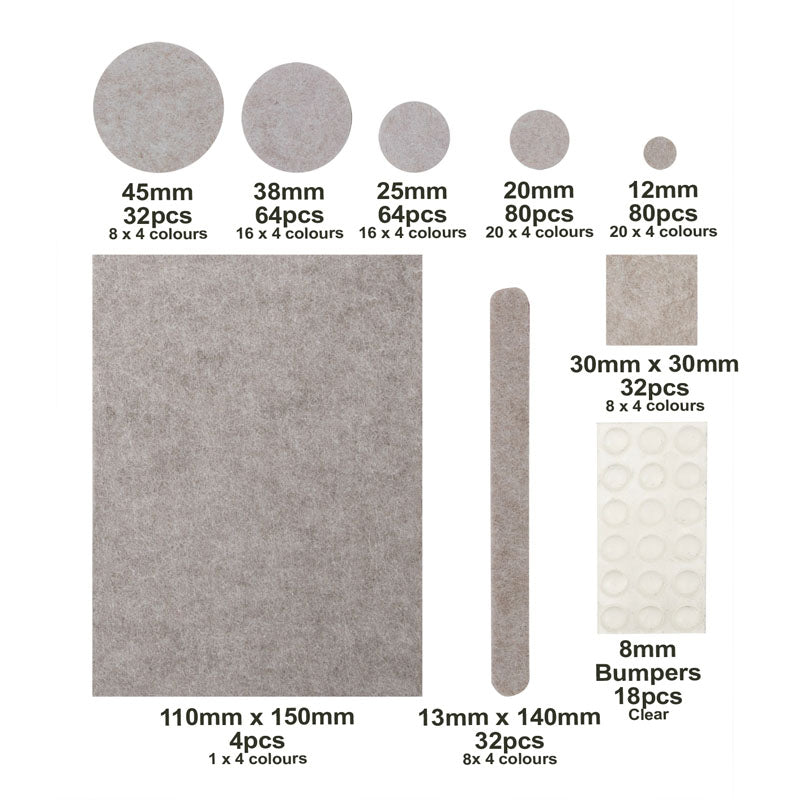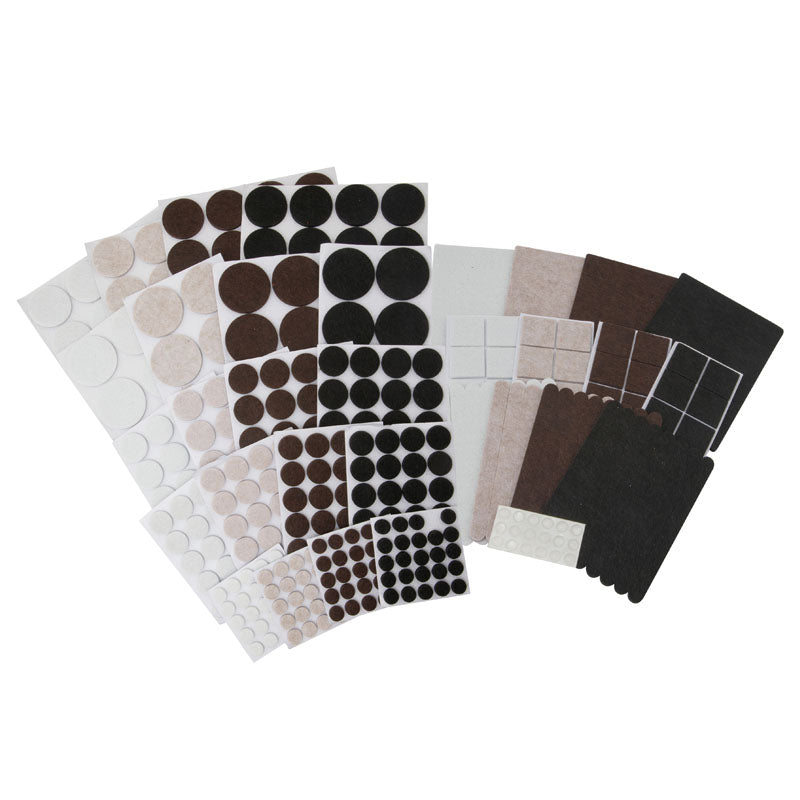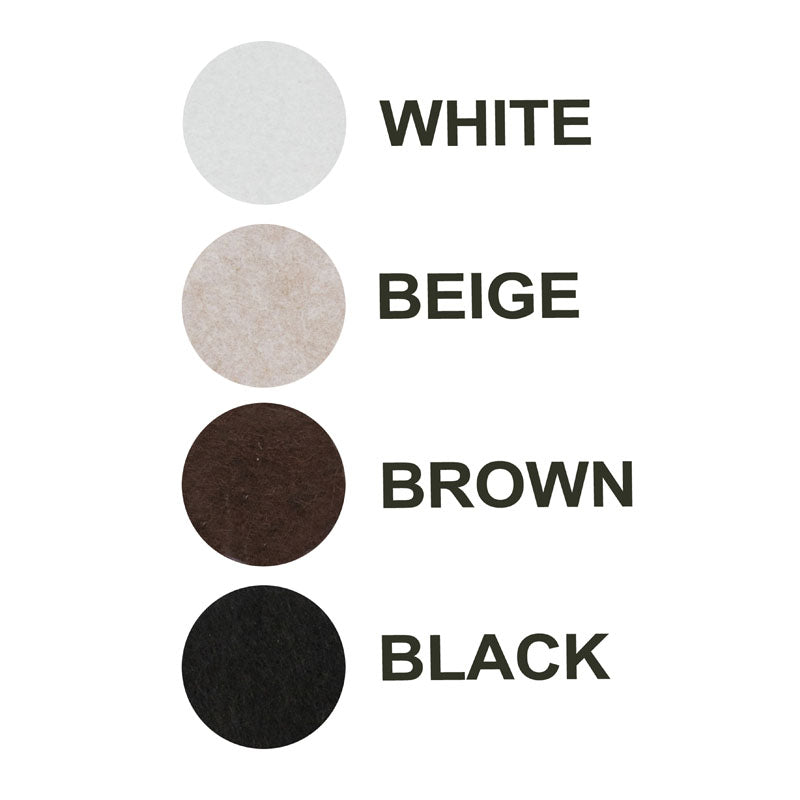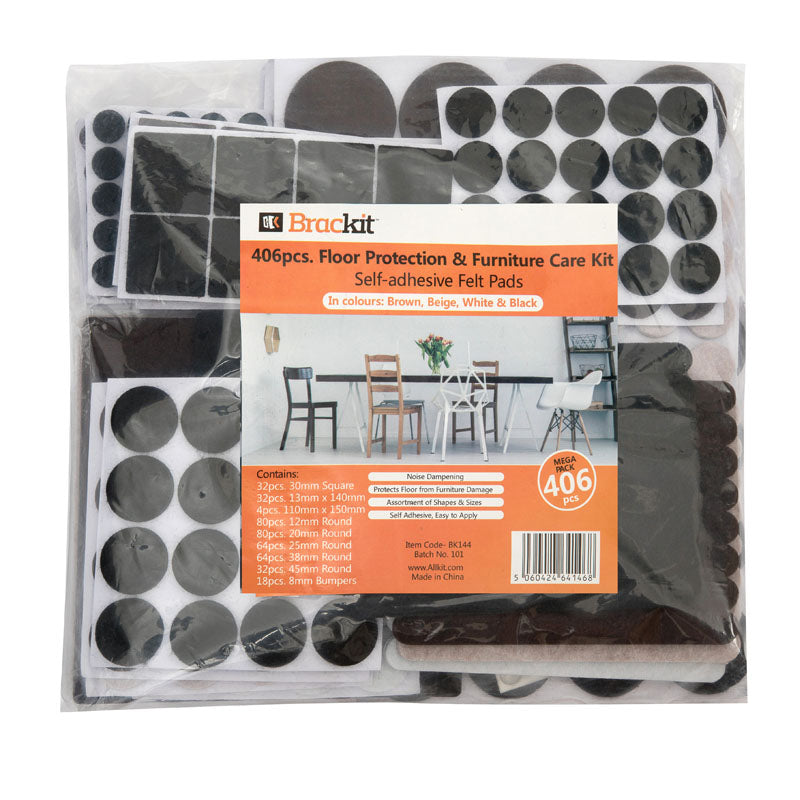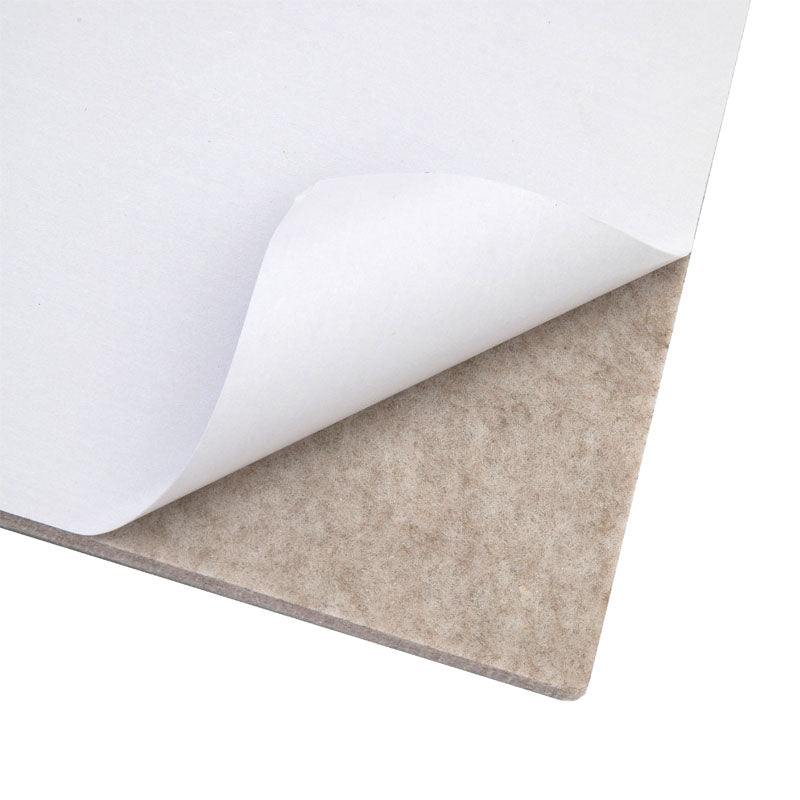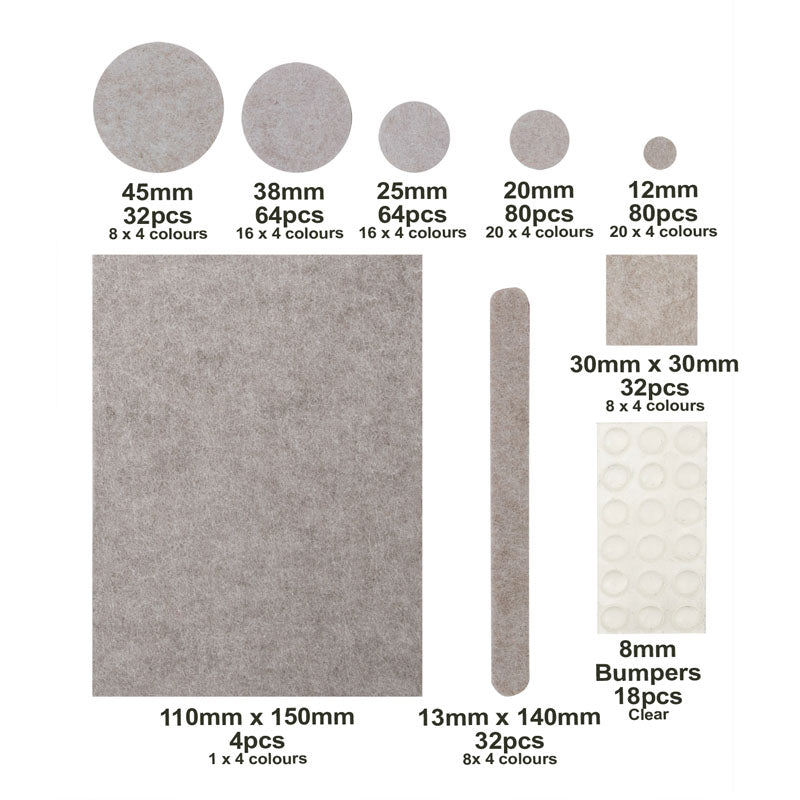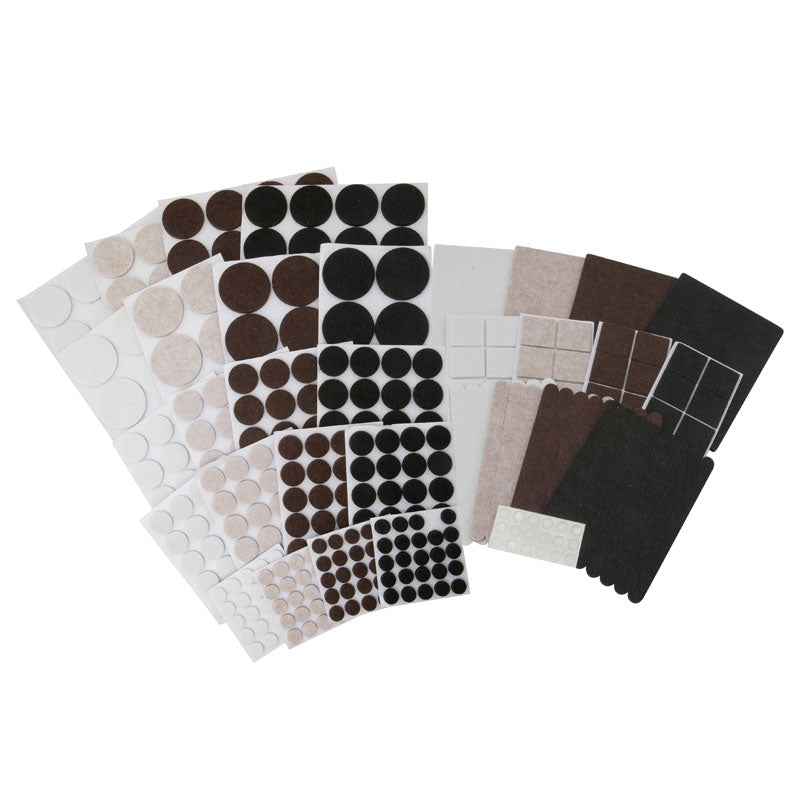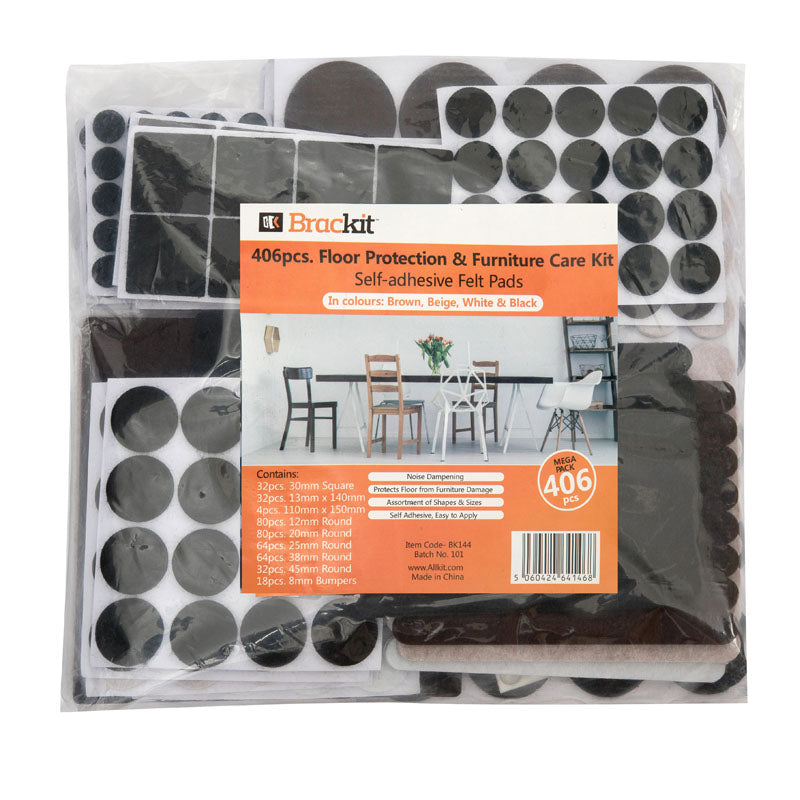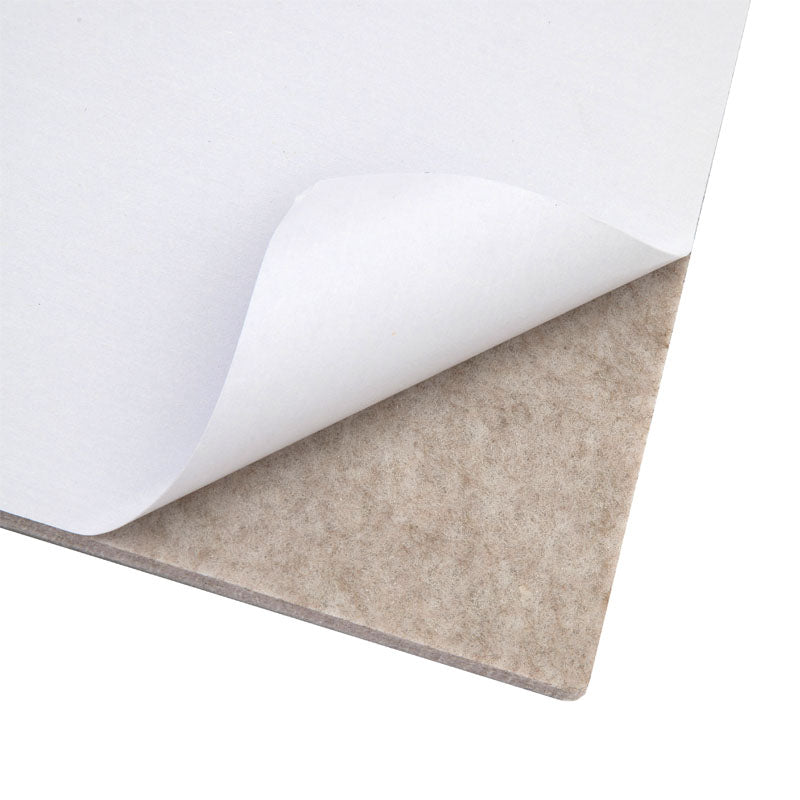 GREAT CHOICE OF PROTECTIVE FELT PADS FOR FURNITURE AND FLOORS ? This bulk pack of protective felt pads gives you the widest choice possible for all your floor protecting requirements. Designed especially to offer instant protection for your floors against furniture legs leaving unsightly marks and scratches.
PERFECT FOR PREVENTING FLOOR SCRATCHES AND DENTS FROM FURNITURE LEGS ? If you have recently installed a new floor or simply want to protect your existing one from damage, this bulk pack of assorted-size felt floor pads is perfect for you. Simply select the most appropriately-sized pads and attach them to the feet of your furniture legs to create a soft protective barrier.
PREMIUM-GRADE 5MM COMMERCIAL-THICKNESS FELT PADS ? Designed to be long-lasting and offer the best levels of protection, we use the same grade and felt thickness as commercial applications, meaning better cushioning, long-lasting adhesive, and the best protection for your floors.
MULTIPLE COLOURS SHAPES AND SIZES FOR ALL TYPES OF USE ? One of the largest and widest selections of protective floor felt pads currently available, each pack contains 32pcs of 30mm Square, 32pcs of 13mm x 140mm, 4pcs of 110mm x 150mm (can be cut to size), 80pcs of 12mm round, 80pcs of 20mm round, 64pcs of 25mm round, 64pcs of 38mm round, 32pcs of 45mm round, and 18x 8mm clear bumpers.
EXTRA-STRENGTH ADHESIVE BACKING TO KEEP PADS FIRMLY IN PLACE ? The extra-strong adhesive backing ensures the pads stay firmly stuck to the base of whatever furniture you are attaching them to. Once applied, your furniture can then easily be slid along the floor on the pads rather than scraping and damaging the surface.
Large 406pcs Bulk Pack of Premium Furniture Felt Pads for Furniture Feet - Floor and Furniture Care Kit – Heavy Duty Self-Stick Adhesive-Backed 5mm Thick Felt in Various Shapes Sizes and Colours
£0.00
Available for home delivery (free UK delivery over £20)
FREE returns